A few weeks ago I entered the Spring Fling Give-A-Way with Sandy at Hobnobbers and much to my surprise Sandy contacted me with the news that I had won!! And what a win. Within just a few days I received the box from Sandy. I opened the outer box and then realized (this is Sandy we are talking about) that there were lots of goodies inside. All packaged as little presents! I knew I needed to have time to take photos as I took them out and just had time to do it today. This is what I found inside the box.
First, the most adorable egg shaped box trimmed with lace and music pages.
A cute ceramic bunnies figurine:
A pretty blue doily and chick candle:
A tea cup and saucer with pink water lilies:
A doily and hankie:
A scalloped edge hobnail bowl:
A very unique metal Easter card and envelope:
A beautiful linen table runner embroidered with a basket of blue flowers:
And all together!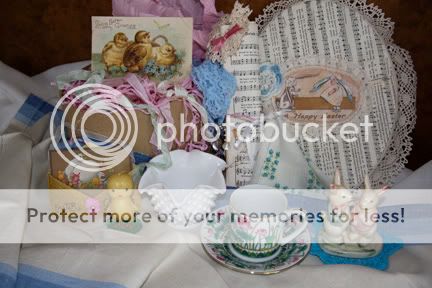 Thank you so much to Sandy and the Hobnobbers!